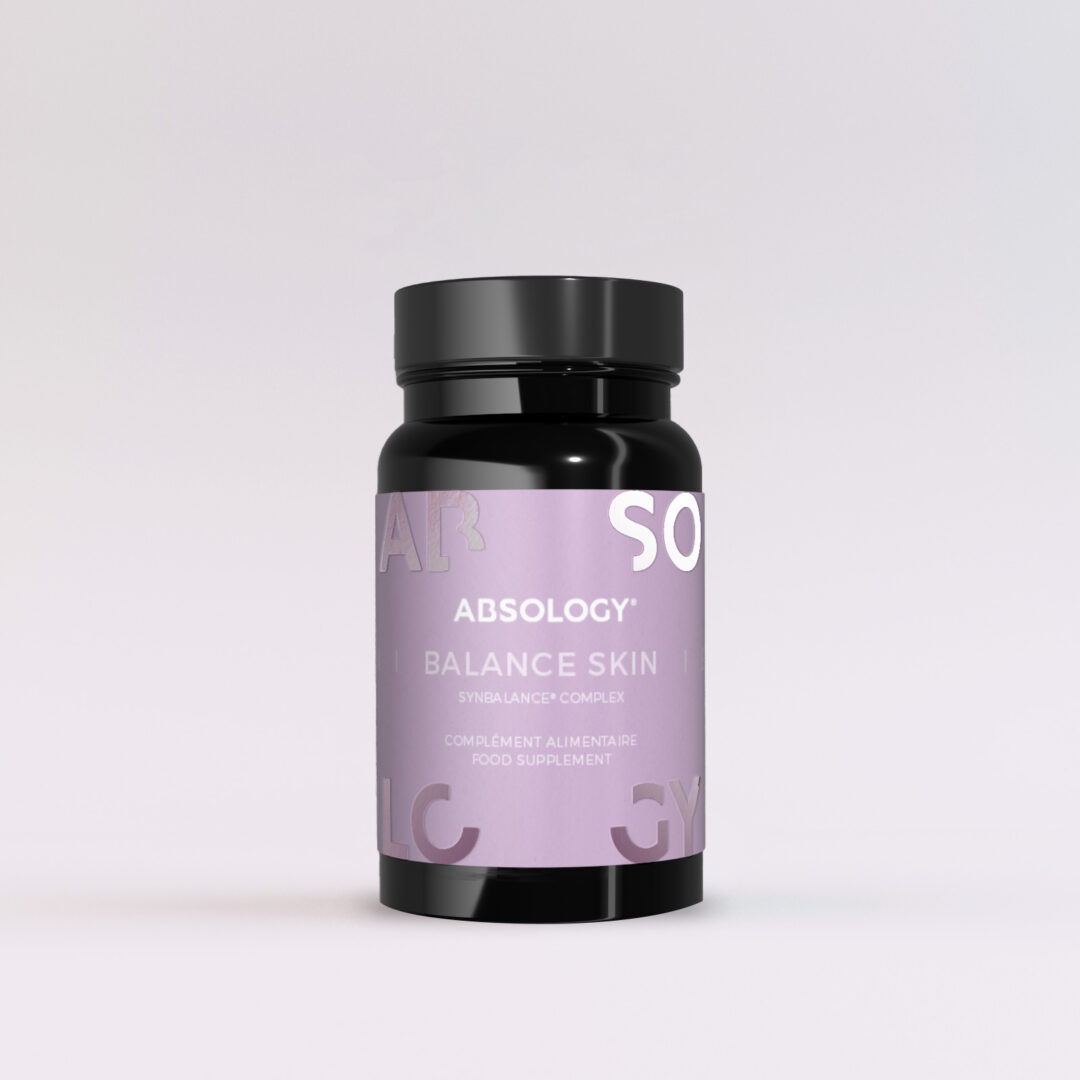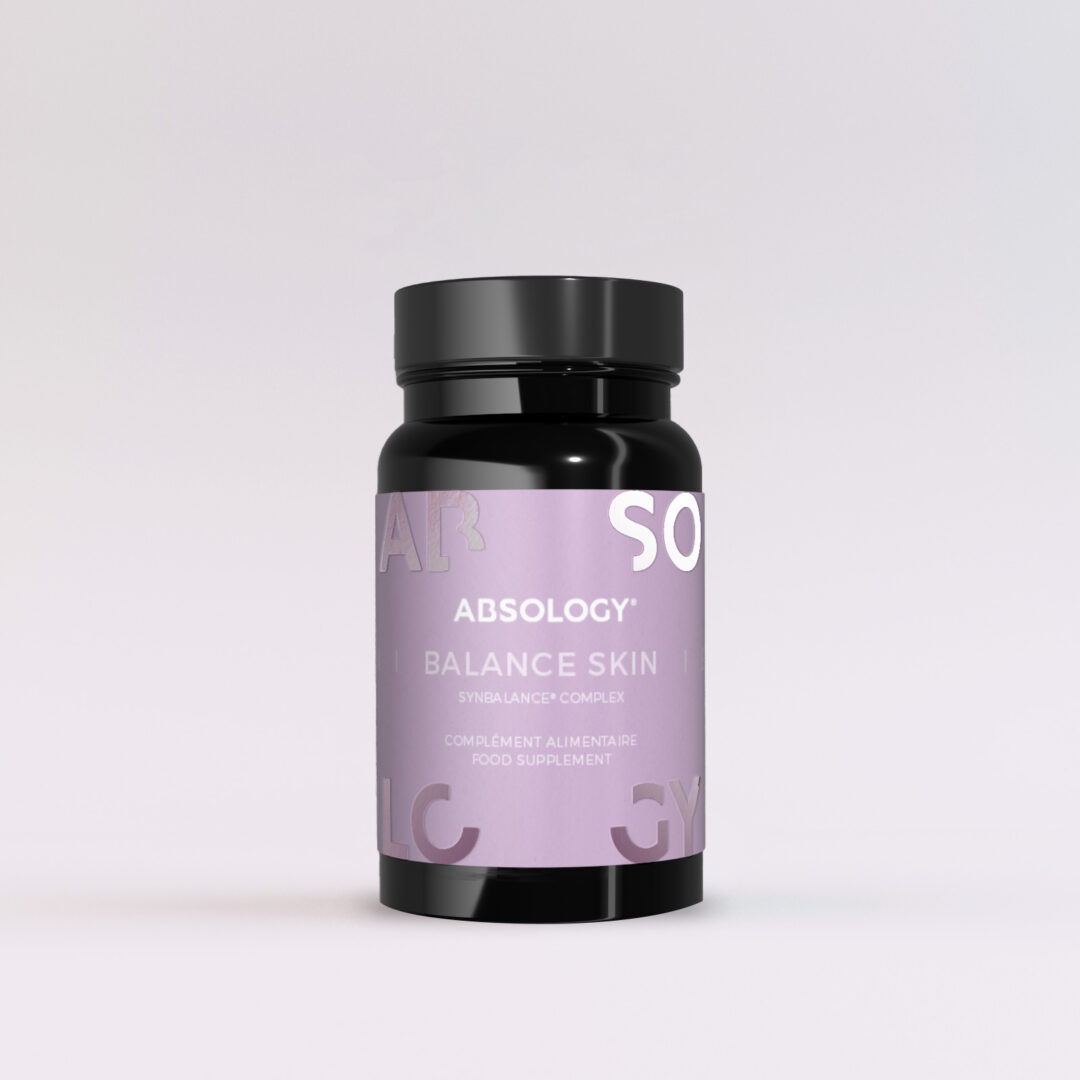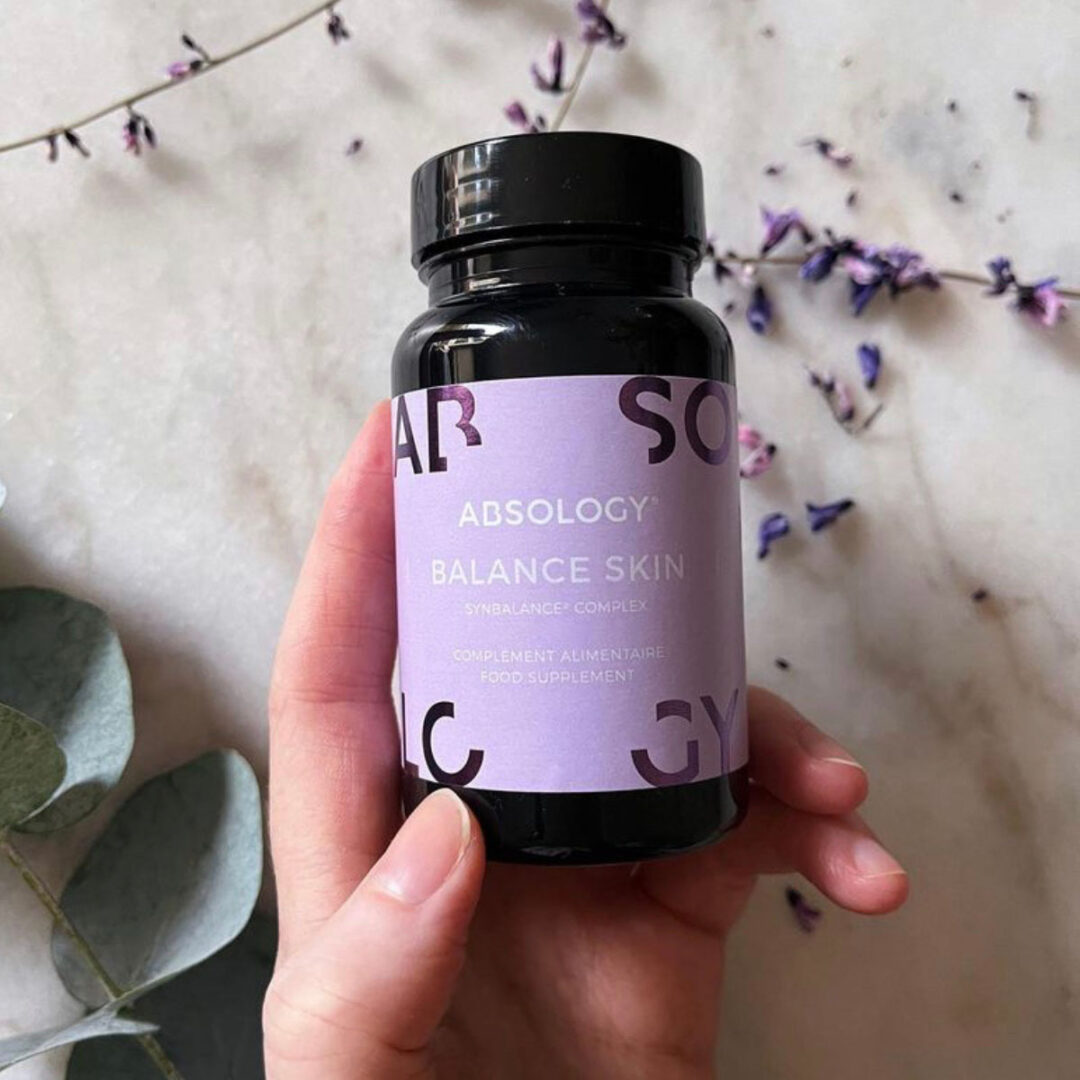 Balance Skin
Food supplement for sensitive and blemish-prone skin
ABSOLOGY® s a supplement with a revolutionary formula targeting the plant-based "gut-skin" axis, nutrients and a patented probiotic complex formulated for sensitive and blemish-prone skin.
Its three proprietary probiotic strains have been selected for their remarkable performance in modulating the inflammatory state.
first results start to be visible already from 28 days.
For optimal and lasting results, we recommend at least a 3 month treatment.
Radiant skin starts with a healthy gut!
ABSOLOGY® Balance Skin is an innovative dietary supplement that helps achieve radiant skin through its revolutionary formula that targets the "gut-skin" axis. Specifically formulated for sensitive and blemish-prone skin, this supplement contains natural nutrients and a patented probiotic complex, Synbalance®.
The secret of Balance Skin lies in its three selected probiotic strains known for their effectiveness in modulating inflammatory conditions. This nutricosmetic program is suitable for those with reactive, sensitive, atopic skin experiencing inflammation, itching, eczema, redness, blemishes, and acne. Our formula is backed by scientific research demonstrating its effectiveness.
ABSOLOGY® Balance Skin improves skin elasticity and hydration, reduces discomforts like dryness, tightness, itching, and flaking. Additionally, it alleviates inflammation, maintains healthy skin by promoting toxin elimination, and contributes to a brighter complexion.
2 capsules per day with a glass of water without food for 3 months.
The microorganisms contained in probiotics are used to restore the balance of the intestinal bacterial flora. Their mechanism of action is activated within the intestine, where they effect direct colonization.
This means that taking probiotics before or after meals is very different because food changes the pH of the stomach, making it more aggressive. Probiotics, on the other hand, must survive gastric juice and reach the intestine unscathed.
Food supplements should be used as part of a varied, balanced diet and a healthy lifestyle.
Do not exceed the recommended doses. Keep out of the reach of children.
Store in its packaging protected from light, heat and humidity.
Pregnant or breastfeeding women should seek the advice of a healthcare professional before any supplementation.
90% of users find their skin healthier
83% of users find their skin more elastic
75% of users find their skin more hydrated
70% of users noticed a decrease in itching
1 – Michelotti, A., Cestone, E., De Ponti, I., Giardina, S., Pisati, M., Spartà, E., & Tursi, F. (2021). Efficacy of a probiotic supplement in patients with atopic dermatitis: a randomized, double-blind, placebo-controlled clinical trial. European Journal of Dermatology, 1(1);
Have you ever heard of the intestinal flora? Or more exactly, the intestinal microbiota? Behind this name hides a whole ecosystem of microorganisms, which live in our intestines to ensure a healthy organism.
The vast majority are "good" bacteria, essential for our good health. They ensure the proper functioning of the metabolism (synthesis of vitamins, assimilation of nutrients) and protect our body (stimulate the immune system, strengthen the intestinal barrier).
When the microbiota is out of balance (in scientific terms, we speak of dysbiosis), there is only a small majority of beneficial microorganisms in the face of harmful microorganisms. This can result in various digestive and skin disorders.
For this reason, gut health has become more and more prevalent when we talk about general well-being. Our gut has the ability to control almost everything that touches the body. This means that our mental health, physical condition, and skin are all linked in one way or another to this complex colony located in the gut, which contains billions of strains of bacteria and microbes.
Scientifically, the intestine is home to a major microbiome that ensures the body's self-regulation. This is no small task, as it creates a direct link between the intestine and all the organs in the body, especially the skin.
The correlation between skin and gut – the gut-skin axis – is now clearer: intestinal imbalances can affect the skin by inducing systemic inflammation, thus triggering dermatological diseases like atopic dermatitis (AD) or acne. This correlation was first described in 1930 with the theory regarding the interrelation between emotional states, the gut microbiota and systemic inflammation of the skin, the well-known gut-skin-brain axis.
How probiotics can play a positive role in reducing the onset of skin distress is due to their indirect help in improving the restoration of the gut microbiota, colonizing it with good bacteria, improving immune defense, and can also help the body digest food, produce nutrients and neutralize toxins.
Considering that the gut is involved in regulating overall health, consuming prebiotics and probiotics can absolutely lead to beauty and health benefits.
Active ingredients

2 capsules/day

Acacia fiber

200 mg

Wild pansy extract

112,5 mg

SynBalance® of which
Lactobacillus rhamnosus LRH020
Lactobacillus reuteri PBS072
Lactobacillus plantarum PBS067

1md ucf **
1md ucf **
1md ucf **

Zinc

6 mg

Vitamin B3

4,8 mg
** Colony Format Units
Ingredients: acacia fiber, vegetable capsule (HPMC), extract of aerial part of wild pansy (Viola tricolor L.), maltodextrin, SynBalance® (mix of 3 lactic ferments: Lactobacillus reuteri, Lactobacillus rhamnosus et Lactobacillus plantarum), zinc citrate, vitamin B3 (nicotinamide), anti-caking agent: magnesium stearate.